In the October edition Chef Gastronomic Warehouse the "Sales Psychology in Restaurant" article of our Commercial Director was published Grzegorz Wejera.
The article is about the art of building relationships and about those aspects of behavior that are most important in managing a restaurant. The most important thing is to manage the relationship so skillfully as to cause that firstly the guests will choose their restaurant more often, and secondly they will be willing to buy more. Insightful analysis of the waiter-guest relation, will allow to better understand and optimize the activities ...
We invite you to read!!!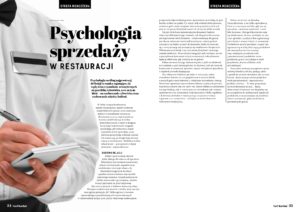 Next PostRead more articles